Have you noticed the past few years how many leaders in the body of Christ are recommending Communion — even daily observances in our homes?
Perhaps you grew up in the church taking the bread and cup either weekly or monthly.
Unfortunately, for many believers, Communion has become a mere ritual.
Jesus did command us to observe taking the bread and the cup to remember His sacrifice for our Redemption. But, what is the deeper meaning for us?
As I was reading Luke's account of the walk to Emmaus after Jesus died and rose again (though they didn't believe it yet)- the Lord revealed something powerful to me.
You recall that 2 disciples were walking to Emmaus, about 7 miles from Jerusalem.
They were talking about what had happened to Jesus when He shows up beside them. They don't know it is He, and wonder, "who is this clueless Man," as He asks them why they are so sad. How could it have escaped anyone in Jerusalem that Jesus of Nazareth had been crucified. They are perplexed, for they had hoped Jesus would "redeem Israel."
Like so many followers of Jesus, they were looking for Him physically to bring God's Kingdom to Earth now. They had heard from the testimony of the women who went to the tomb, that an angel said He was alive. Yet, they were disconsolate.
They are perplexed for they had hoped Jesus would "redeem Israel."  Luke 24:21
Then He said to them, "O foolish ones, and slow of heart to believe in all that the prophets have spoken! Ought not the Christ to have suffered these things and to enter into His glory?'
And beginning at Moses and all the Prophets, He explained to them in all the Scriptures the things concerning Himself." Luke 24:25-27
Still, they did not recognize Him. They get to Emmaus and Jesus acts as though He would keep going. With true middle Eastern hospitality, they invite him to stay and He does.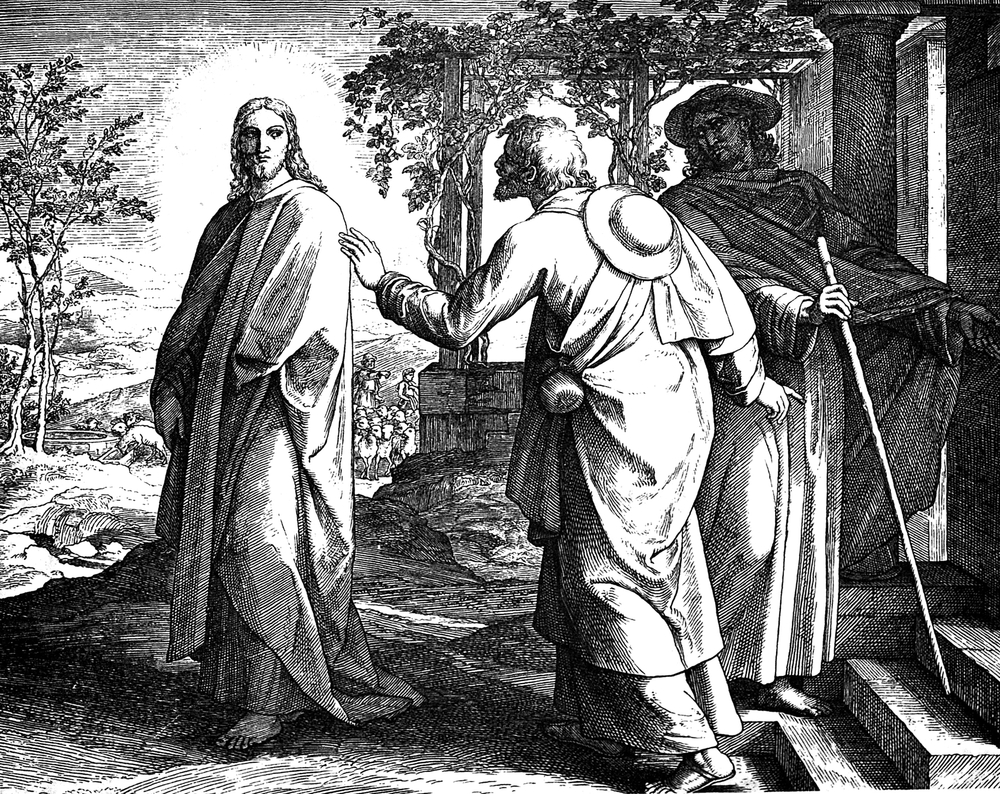 Because they had a preconceived idea about how the Messiah was supposed to make a kingdom on earth and free them from Roman rule, they had bypassed some of the Scriptures foretelling His coming. Also, I believe they were in shock.
When we are dismayed by circumstances, we don't always see clearly. They had the reports of the empty tomb, but still didn't get it. Even after Jesus expounded the Scriptures to them, they didn't recognize Him.
Certainly, they were drawn to Him, enough to invite Him in for the night.
When were their eyes opened?
"..As He sat at supper with them, He took the bread, blessed and broke it, and gave it to them. Then, their eyes were opened and they recognized Him. And He vanished out of their sight." Luke 24:30-31
It was in the breaking of bread, symbolizing His broken body for us, that recognition came. Even good preaching from the Master Himself didn't get through to these disciples of Jesus. The sorrows of life were crowding out their ability to discern.
But then — in the breaking of the bread, it all became clear — they saw Jesus.
I submit that as we partake of Holy Communion regularly, revelation of the Savior will deepen in us. Then, preaching we hear and reading of the Scripture will be clearer to us.
"They said to each other, "Did not our hearts burn within us while He talked with us on the road, and while He opened the Scriptures to us?" Luke 24:32
The same hour they got up and returned to Jerusalem where they found the eleven proclaiming,
The Lord is risen indeed and has appeared to Simon.

Luke 24:34
So, they shared with the disciples what had happened on the road and how Jesus was recognized in the breaking of the bread.
Let us remember the Lord's death as He commanded us and experience fresh recognition of Him for our daily walks.
"This is My body which is given for you; do this in remembrance of Me."  Luke 22:19b

"This cup is the new covenant in My blood, which is shed for you."  Luke 22:20b
As we see Him more clearly, we will know the steps to take that will honor Him.
We truly will be walking with Him.